The environmentally friendly alternative.

The Thermokill, commonly known as burning or heating, is a way to treat chicken mite in poultry farms. It is a way to combat both the chicken mite as its eggs. This method has been developed by Van Eck Industrial Hygiene B.V. and successfully applied. Already many barns have been kept free of chicken mite throughout the range after applying this method, in combination with a proper prevention of contamination after the full plague (both lice and eggs) has been killed using Thermokill.
After performing Thermokill, the new production round begins in a barn that is free of chicken mite, keeping young animals safe from chicken mite after the initiation (a stressful time), which results in a positive effect for the critical timeframe between 17 and 35 weeks in age. This way health problems at an early age can be prevented, making sure a healthy foundation is laid for a successful match and a safe product for consumption.
It is important to prevent the chicken mite from coming back after treatment with Thermokill. As you are free of chicken mite you have to try to continue to be so, so please ask about our prevention advice for chicken mite.

The Thermokill can also be applied to problems concerning micro-organisms, like bacteria etc. (i.e. salmonella). Bacteria have a thermo-unstable point, meaning they can't survive above certain temperatures.
In general it is possible to say that through heat, as long as the temperature is high enough and for a sufficient amount of time, 100% of the micro-organisms can be destroyed.
The Thermokill method for chicken mite:
The barn is heated to where the coldest spot has a temperature of ca. 45°C. Wherever this temperature is reached the lice and their eggs dry out and successful termination is accomplished. The process takes a number of days, to ensure a slow rise and fall of the temperature of the furbishing.
Thermokill, the solution for the chicken mite problem, practice has proven it, inform about our unique method now.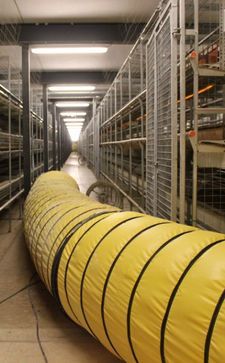 ---